Woman Receives $3 Million In Slip And Fall Case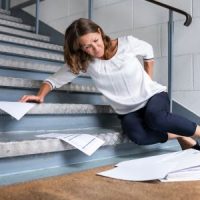 Dealing with the effects of a slip and fall accident can be frustrating, especially when you are seriously injured and your claim is denied for no valid reason. This is what happened to a Florida woman. Her claim was originally denied but she took the case to trial and won more than $3 million for her damages.
The woman was shopping at a Florida supermarket when she slipped and fell on a wet floor. She was unaware that the floor was wet, as there was no warning. There were no signs indicating that the floor was wet and that customers should proceed with caution.
The woman suffered serious injuries to her back and pelvis. She required extensive medical treatment. She sued the supermarket for its negligence, but the store denied liability and claimed that the woman caused her own injuries. However, the store's insurer failed to properly investigate the slip and fall accident, so when it denied the woman's claim, there was no justification.
The case went to court. After a trial, the judge ruled in the woman's favor. It was determined that the supermarket was negligent because employees failed to mark the wet floor, and that contributed to the woman's injuries. The court also accused the supermarket's insurance company of bad faith, since it improperly handled the case. As a result, the judge awarded the woman more than $3 million in damages. She received compensation for her medical expenses, lost wages, and pain and suffering.
Causes of Slips and Falls
Slip and fall accidents are often caused by liquid spills, especially in store and restaurant environments. However, slip and fall accidents can be caused by other negligent condition as well, such as:
Recently mopped or waxed floors
Ice and snow
Misplaced floor mats
Torn carpet
Broken or missing handrails
Unmarked steps
Improper ladder use
Poor lighting
Clutter
What is Bad Faith?
In the insurance industry, bad faith occurs when the insurer reneges on its obligation to the client. They may do this in a number of ways, such as failing to pay a legitimate claim or by not properly investigating a claim. Bad faith can apply to any type of insurance, including auto, home, health, and life insurance.
A simple unintentional mistake is not considered bad faith. However, if an insurer fails to promptly respond to a policyholder's claim, that is considered bad faith. If an insurer refuses to cover a claim, they must explain why. They cannot simply deny a claim for no valid reason. Otherwise, that is considered bad faith.
 Contact a Personal Injury Lawyer Today
Slip and fall cases are no laughing matter. A person can suffer significant injuries from such an accident.
A Bradenton slip & fall lawyer from Cahall Law Firm can recover compensation for your injuries. We'll focus on financial recovery while you focus on physical recovery. Schedule a free consultation by calling (941) 281-2019 or filling out the online form.
Source:
usaherald.com/florida-judge-rules-in-favor-of-injured-woman-cites-insurers-bad-faith-in-supermarket-slip-and-fall-case/