Slips And Falls On Cruise Ships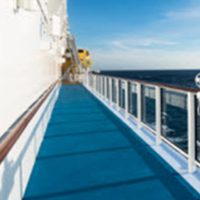 Slips and falls are incidents that tend to plague older people. In fact, statistics show that falls occur in 25% of seniors over the age of 65. But when it comes to cruise ships, anyone of any age can be a victim.
Florida is a common area for cruises to depart from. However, these cruise ships don't typically stay in the Florida area. They may go to other parts of the United States, to various island nations in the area, or to other parts of the world. While this can be exciting, it can be frustrating when it comes to the law.
For example, if you are injured in a slip or fall or other accident while aboard the cruise ship, premises liability laws apply. But some elements of these laws, such as liability and statute of limitations, can vary, depending on the location of the ship at the time the accident occurs. Because of this, slips and falls on cruise ships can be quite complicated.
Common Causes of Slips and Falls
Slips and falls can happen in a variety of areas on a cruise ship. They may occur on an open deck, on a dance floor, in a restaurant, in a theater, by the pool, in bathrooms, or in other common areas.
Common causes are:
Spilled drinks
Food left on the floor
Slippery deck surfaces
Wear and tear on the floors
Loose flooring
Dangerous flooring materials
During floor maintenance, such as waxing or buffing floors
Water tracked in by guests using swimming pools
Crowded areas
Tripping over items such as luggage
Defective equipment
These slips and fall accidents are often due to some sort of negligence. The cruise ship may be at fault, as well as crew members and even the passengers themselves. That's why you need an experienced lawyer on your side who can determine liability and help you get justice for your serious injuries.
Understanding Your Legal Rights
Because cruise ships travel on bodies on water, they are governed by maritime law. General maritime law governs the type of damages awarded to victims who file a premises liability lawsuit against a cruise ship when they are injured at any time, from the embarkation gate all the way to leaving the ship once they get back to port.
Legal claims against cruise ships need to be brought about in a timely fashion. Therefore, if you have been injured in a cruise ship slip and fall accident, you should schedule a consultation with a premises liability attorney as soon as possible. Otherwise, you could lose out on essential financial compensation.
Contact a Personal Injury Lawyer Today
Slips and falls can ruin a good time. Unfortunately, even those on cruise ships looking to have an enjoyable vacation can fall victim to a serious slip and fall injury.
Seek legal help from a Bradenton slip & fall lawyer from Cahall Law Firm. We'll help determine liability and settle your case quickly. Come get justice. Schedule a free consultation by calling (941) 281-2019 or filling out the online form.
Source:
cdc.gov/falls/facts.html