Walmart Not Responsible for Slip and Fall Accident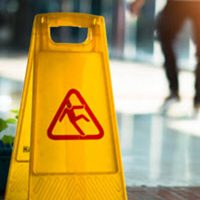 Slip and fall accidents happen all the time. They can happen in your home or while at a store, restaurant, hospital, or office. They can also occur on a sidewalk, on stairs, or in a parking lot.
These accidents tend to happen in slippery conditions, such as during a rain or snow storm or in conditions such as ice. A rainy day in 2017 caused a Florida woman to slip and fall in a Walmart. However, Walmart was cleared of all responsibility for the accident, despite the woman asking for nearly $6 million in damages. The jury sided with Walmart in the five-day trial, which took place at the Palm Beach County Courthouse in December 2022.
In the case of Absolu v. Wal-mart Stores East LP, a 21-year-old woman fell in a Boynton Beach Walmart in October 2017. In the lawsuit, the woman accused Walmart of not clearing rainwater from the floors, causing her to slip and fall.
The woman had given birth weeks before the fall. She suffered back injuries that required three surgeries and multiple injections for pain management. Her attorney asked jurors for roughly $5.75 million in damages, including more than $2 million in medical expenses.
The slip and fall incident allegedly occurred after customers brought wet umbrellas into the store. Walmart allegedly violated policy by failing to hand out umbrella bags, according to the victim's attorney. In addition, Walmart failed to clean rainwater from the floor in a timely manner.
The woman's attorney also showed jurors surveillance video of customers with unbagged, wet umbrellas walking across the area. He claimed that the wet umbrellas left water sitting on the Walmart floor for seven minutes before the woman slipped on it. The woman's husband testified that he heard a customer say they had warned Walmart employees of the water.
However, Walmart's attorney challenged the claim that water sat on the floor long enough for Walmart to have constructive notice about it. Upon viewing the surveillance video, he saw that multiple people walked through the area without falling during the seven-minute period. In addition, photos taken after the fall showed only a small area of clear water. There were no tracks in it, so nobody had walked through it.
Walmart's attorney contended that there was not enough evidence to show that the water was there  long enough to prove that Walmart employees should have known about it. The jury agreed, and the victim was not awarded any money. This was not the slam-dunk case that the victim's attorney thought it would be.
Contact a Personal Injury Lawyer Today
Slips and falls can cause serious injuries. While they can occur on another person's or company's premises, the property owner is not always at fault.
These cases can be complicated. Get the aggressive representation you need from a Bradenton slip & fall lawyer from Cahall Law Firm. Call Cahall and come get justice. To schedule a free consultation, call (941) 281-2019 or fill out the online form.
Source:
blog.cvn.com/walmart-prevails-in-slip-and-fall-trial-over-florida-mothers-back-injuries