Girl Receives $100K After Dog Bite At Animal Shelter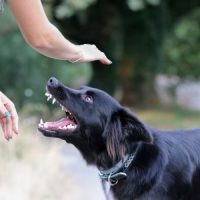 Dog attacks can be scary for kids. A young child may not only have physical injuries but psychological ones as well.
This was the case for a Florida girl who was bitten by a dog while visiting the Broward County Animal Shelter. The girl suffered severe injuries to her arm and while her physical wounds have healed, the psychological trauma remains. She recently testified in court and was awarded more than $100,000 in damages.
The incident happened in November 2018. The girl and her mom were at the shelter to pick out a dog. Surveillance video shows the two walking down the hall. That was when a fully grown American Staffordshire mix that was on a leash went toward the girl and bit into her forearm. The dog would not let go right away, so a shelter employee had to remove the dog's mouth from her arm.
The girl was recently in court to defend her case. She took to the stand and told the court she remembers screaming and crying when the dog bite occurred. According to the girl, she was in pain and "traumatized" by the incident, which happened more than four years ago. The girl is now 11 years old.
The girl's mother attested that the dog bite "played a traumatic role in her life," as the girl would frequently wake up with nightmares and tell her mother about the dreams she had of the attack.
The girl's family sued Broward County for $255,000 for their negligence to compensate them for medical bills, pain and suffering, and other damages. Attorneys for Broward County agreed that the child should receive some sort of compensation but only wanted to give her 10% of what the family asked for. However, a jury was the one to make the decision and they agreed on an award of $103,309.50 for the girl and her family.
The dog was euthanized just a few days after the bite which occurs regularly when a vicious dog bites someone.
Dog Bites at Animal Care Facilities
When a person works at an animal care facility, there is the possibility that they could get bitten. Bites can occur at animal shelters, kennels, or veterinary hospitals. That's why staff members should focus on creating an environment conducive to caring for animals and decreasing stress. Staff and volunteers should be trained on proper animal care.
Still, guests who don't work at the facilities can get bitten, as seen in this case. Because of this, animal handlers should be trained on identifying signs of aggression. They should also know how to properly restrain animals and move them in and out of the facility.
Contact a Personal Injury Lawyer Today
Dog bites can happen anywhere. No matter where they happen, the property owners and any staff must take appropriate action.
If you have been bitten by a dog, a Bradenton dog bite lawyer from Cahall Law Firm can help you get the compensation you deserve. To schedule a free consultation, call (941) 281-2019 or fill out the online form.
Source:
nbcmiami.com/news/local/girl-bit-by-dog-at-broward-shelter-in-2018-testifies/2954427/