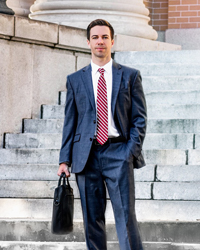 Don Cahall
Bradenton, Florida, Personal Injury Attorney
Don Cahall prides himself on being extremely passionate about every one of his clients' cases no matter whether the damages involved are small or large. Don's clients are victims who have been harmed by others' negligent or intentional wrongdoing. To obtain justice for his clients, Don's objective is to attempt to recover his clients' financial damages as quickly as possible. It has been said that the wheels of justice turn slowly. The culpable parties often seek to obstruct and delay justice and courts are regularly inundated with heavy caseloads. Thus, to meet his objective, Don utilizes an aggressive approach to push disputes towards resolution as expeditiously as possible. Don's energetic personality and work experience allow him to employ this approach.
When possible, Don attempts to resolve disputes without the time and expense associated with litigation. However, the bulk of Don's experience involves representing individuals in litigation. Don's experience includes all areas of legal disputes including pre-litigation proceedings, mediation, arbitration, jury and non-jury trials, appeals and collection proceedings. Further, Don has pursued cases in both State and Federal Courts. Don's extensive experience allows The Cahall Law Firm to provide comprehensive representation to its clients. Every case is prepared for trial and appeal, with the hope that justice is achieved prior to trial.
Before founding The Cahall Law Firm, Don worked for a large law firm that represented numerous national insurance companies. This experience allowed Don to understand the insurance defense strategy employed in litigating personal injury cases. Don then spent years working for a small boutique law firm in Sarasota, Florida as a litigation attorney and represented individuals against a variety of defendants including large corporations and municipalities.
While in law school, Don served as a Judicial Intern for the Honorable Judge David Demers in the Florida Sixth Judicial Circuit and the Honorable Judge Michael G. Williamson in the US Bankruptcy Court for the Middle District of Florida. Don also worked as a law clerk for two large foreclosure and bankruptcy law firms in Tampa, Florida.
Don wasn't always a lawyer. Prior to entering law school, Don earned his bachelor's and master's degrees in Business Administration from the University of Florida and completed studies in Finance and International Business at Uppsala Universitet in Sweden. Don spent years in the banking industry, working for several banks in Tampa and St. Petersburg, Florida as a Senior Account Executive, Credit Analyst, Special Assets Underwriter and Portfolio Manager.
Don is married to Assistant State Attorney Casey Cahall and they are the parents of two children, Caroline Cahall and Chase Cahall. During his free time, Don enjoys boating, fishing, surfing, golfing, watching college sports, and taking his American Eskimo dog for runs.
Education
J.D., Stetson University College of Law
M.A., University of Florida
B.S., University of Florida
Admissions
All Florida State Courts
U.S. District Court, Middle District of Florida
U.S. District Court, Southern District of Florida
Eleventh Circuit Court of Appeals
Professional Associations/Memberships
The Florida Bar
Sarasota County Bar Association
The Manatee County Bar Association
The Florida Justice Association
The American Association for Justice
The Florida Bar – Trial Lawyers Section