Woman Injured In Bicycle Accident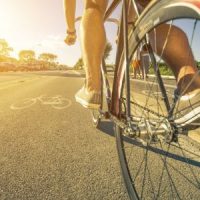 Bicycles are fun to ride, especially in Florida's gorgeous weather, but bike riding comes with dangers. Being around larger vehicles certainly has its challenges. In fact, many bike riders are seriously injured or killed in accidents.
A woman suffered critical injuries in a recent bicycle crash in Boca Raton. The crash happened on the morning of January 5 on South Central Park Boulevard.
A 29-year-old woman was riding her bicycle near the south entrance of West Boca Medical Center when she was hit by a car. The impact caused the woman to be ejected from her bicycle and land 10-15 feet away.
Despite the fact that the accident happened right at the West Boca Medical Center, the woman was transported to Delray Medical Center due to the extent of her injuries. She was taken to Delray Medical Center as a priority 2 trauma alert since that is the closest trauma center in the area.
Increase in Bicycle Crashes
The COVID pandemic was brutal for many people, but it was beneficial for others. For one, it motivated people to exercise more. Many people bought bicycles during this time.
However, the streets were not prepared for this boom in cycling. Many cities had to accommodate the increase in bicycles on the roadways by creating more bike lanes and trails to make transportation safer.
The influx of bicycles, however, has led to more accidents. Unfortunately, the crashes have been more severe in nature, resulting in serious injuries and fatalities. These accidents have several causes. More and more motorists are driving recklessly, speeding and breaking traffic laws. There are also issues with road and intersection design. Bicyclists are put at risk by infrastructure and how it is built and maintained.
The problem seems to be that there's a disconnect between encouraging more biking and ensuring the safety of bicyclists who are using the roadways. Most modern streets are primarily designed to move vehicles through city neighborhoods and urban centers quickly. This means bicyclists are left out of the mix, even though many people ride bikes in cities.
But today's modern roadways were not initially created to prioritize cars. That's because the first vehicles to use the streets in the United States were not automobiles, but instead bicycles and carriages. In fact, our streets did not become so car-centric until after World War II.
While some cities are stepping up and improving infrastructure, it's not enough. Motorists often disregard bicyclists, even driving in designated bike lanes. It's a huge problem that is making rides unsafe for bike riders.
Contact a Personal Injury Lawyer Today
Bicycles tend to ride around larger vehicles, such as cars. This can lead to a dangerous situation. Many bicyclists are seriously injured or killed.
If you are in this situation, seek legal help from a Bradenton bicycle accident lawyer from Cahall Law Firm. We'll help you deal with liability and compensation issues. To schedule a free consultation, fill out the online form or call (941) 281-2019.
Source:
bocapost.com/news/florida/palm-beach-county/boca-news/critical-crash-bicyclist-hit-by-car-near-west-boca-medical-center/