Two Injured In Motorcycle Crash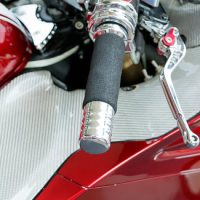 It's always disheartening to hear about motorcycle accidents. Many people in Florida love riding motorcycles and they always hope for a safe ride. However, it takes just a moment for a catastrophic accident to occur.
A recent crash in Sarasota has left two people with life-threatening injuries. The accident occurred in the early morning hours of March 12 at US 41 and 14th Street.
There are not many details about the crash, but according to the Sarasota Police Department, two people were on the motorcycle when it crashed. Both were taken to Sarasota Memorial Hospital with life-threatening injuries.
It is unknown why the motorcycle crashed. No other vehicles were involved. The crash shut down both the north and southbound lanes of US 41 for several hours. The accident is still under investigation.
The motorcycle group West Coast Florida Riders is sending prayers to those injured. They say motorcycle accidents are common and that it's disheartening to hear about them. They also say there are two people who ride motorcycles: people that have crashed and people that are going to.
West Coast Florida Riders also has advice for motorcyclists: always be aware of your surroundings. Always keep your head on a swivel, so to speak, and be watching in all directions at all times. You want to avoid a motorcycle accident if possible because if you get in one, chances are really good that you're going to get hurt. If someone is planning to ride when it's dark, LED lights in the motorcycle are recommended to help with visibility.
More Advice for Motorcycle Riders
If you ride a motorcycle, you want to do what you can to be safe at all times. Here's some advice before you hit the road:
Check the weather. Motorcycles have less traction than passenger vehicles. Avoid riding them in rain, ice, snow, and other inclement weather. Check the forecast before you head out.
Wear appropriate gear. Motorcycle gear protects you from the weather, debris and road rash, if you get in a crash. Appropriate gear includes a helmet, goggles, leather jacket, boots, and non-slip gloves.
Be visible. Never assume others can see you. Stay out of other drivers' blind spots. Drive with your headlights on at all times – even during the day. Always use your turn signals and hand signals. Wear reflective or bright clothing.
Drive defensively. Always be alert and ready to react to road hazards. Anticipate what others will do. Be wary of bumps, railroad tracks, sand, and gravel.
Contact a Personal Injury Lawyer Today
Motorcycle accidents can happen in an instant. Sometimes other vehicles are involved. In other cases, they are solo-vehicle crashes caused by the rider's own negligence.
In any case, you may be entitled to compensation for your injuries. A Bradenton motorcycle accident lawyer from Cahall Law Firm can help you with your case. Schedule a free consultation by calling (941) 281-2019 or filling out the online form.
Source:
mysuncoast.com/2023/03/12/two-hospitalized-after-sarasota-motorcycle-crash/