What Is SLAPP?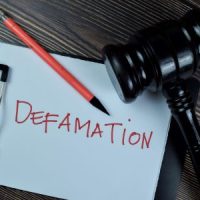 The United States is comprised of a litigious society. Residents file lawsuits for a variety of reasons. While many lawsuits are filed for issues relating to physical harm, sometimes these claims arise out of communication, particularly a person's right to engage in free speech.
This has led to an influx in strategic lawsuits against public participation (SLAPP). These refer to lawsuits filed against a person or group of people for exercising their rights to speech, press, assembly, petition, or association. In a nutshell, a SLAPP suit is a civil claim filed against an individual or organization arising out of that party's communication to the government about an issue of public concern.
SLAPP lawsuits tend to focus on the petition clause of the First Amendment. They may include civil lawsuits for defamation, nuisance, invasion of privacy, interference with contract, and interference with economic advantage. These lawsuits may also come about when citizens erect political signs on their own property, speak at public meetings, report violations of environmental laws, or protest publicly. Then what happens is that a party who claims to be aggrieved by these acts — such as developers, merchants, and public officials — file lawsuits as recourse.
The term SLAPP was coined in the 1980s after there was a surge in lawsuits filed to silence public criticism by citizens. These lawsuits are usually meritless, resulting in a waste of time, money, and resources that could be spent on more important legal issues.
This has led 32 states to enact anti-SLAPP laws. Florida is one of them. There is some controversy in these laws. For example, Minnesota did pass anti-SLAPP laws at one time, but it was later deemed unconstitutional.
Each of those 32 states have anti-SLAPP laws that vary. For example, Florida is unique in that it actually has two anti-SLAPP laws. One is narrow, while the other is broader in scope. The narrower law applies primarily to homeowner's associations. It protects homeowners from lawsuits by individuals, businesses, and government entities based on a home's appearance and presentation. These types of SLAPP suits are to be expeditiously dismissed by the courts.
The general SLAPP law was adopted in 2000. It prohibits lawsuits brought against individuals for exercising their right of free speech in terms of public issues and government grievances. Under the general anti-SLAPP provision, if a government entity is found to be in violation, the court may award actual damages. It's possible for a defendant who prevails under Florida's homeowner anti-SLAPP law to be awarded treble damages.
Contact a Defamation Lawyer Today
Defamation can come about in many forms, but free speech is allowed under the First Amendment of the Constitution. Citizens should be allowed to speak their mind and show criticism to some degree without being sued or punished in other ways.
Is it free speech or defamation? These cases can be complicated. Get help from a Bradenton defamation lawyer from Cahall Law Firm. Schedule a free consultation today by calling (941) 281-2019 or filling out the online form.
Source:
rcfp.org/anti-slapp-guide/florida/#:~:text=Florida's%20general%20anti%2DSLAPP%20provision,government%2C%20or%20to%20petition%20the