Dangers Of Slips And Falls When Living Alone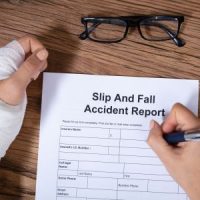 An alarming 28% of people over the age of 65 suffer from falls every year. When there's nobody around to help a fall victim, the injuries can become severe and even deadly. Of those who survive and are able to get up and walk away, about 37% will sustain a mild to severe injury. In addition, about 20% of senior adults who fall will require hospitalization for a head injury or broken bone. The hips, femurs, ribs, and sternum are the most commonly broken bones.
A head injury can be especially dangerous if a person is on blood thinners because a blow to the head can cause significant bleeding. A fractured hip or femur can also be significant because a huge amount of blood loss can occur. This all depends on the person's medical condition, the medications they're taking, how they fell, and what they hit when they fell.
When a fall causes serious injury to a senior citizen, it becomes a dire situation. Of those hospitalized, 11% are transferred to nursing facilities. They never return home to their previous lives. Even more frightening is that half of older adults who are hospitalized for a serious injury after falling will die within one year.
Unfortunately, deaths caused by falls are on the rise. There has been a 30% increase across the nation from 2007 to 2016. Deaths from falling are above average in several Florida counties. In Lee County, falling deaths run 4% above state average, while they are 24% above average in Collier County.
According to the Florida Department of Health, unintentional falls are the leading cause of injuries among Florida residents over the age of 65. What this means is that a person can easily go from living an independent lifestyle to one involving a long recovery, a permanent disability, and even death.
Causes of Falls in Elderly Persons 
Falls are not a normal part of aging. There is typically an underlying issue that causes and/or contributes to someone falling. There are many things that can cause falls, such as the following:
A history of previous falls
Vision problems
Inner ear problems
Dizziness or lightheadedness
Loss of range of motion in the ankles, knees, and hips
Numbness and loss of sensation in the feet
Loss of stamina and endurance
Back pain
Loss of muscle strength
Unsupportive footwear
Tripping and slipping hazards
Poor lighting
Contact a Personal Injury Lawyer Today
Slips and falls can happen at any time, whether or not a person is alone. But when there is someone around to help, the effects can be minimized.
If your slip and fall was caused by someone else's negligence, seek legal help from a Bradenton slip lawyer from Cahall Law Firm. We'll ensure the property owner is held liable for their negligence. Get justice. To schedule a free consultation with our office, call (941) 281-2019 or fill out the online form.
Source:
fortmyers.floridaweekly.com/articles/home-alone-4/