Motorcyclist Killed After Sideswiping Sedan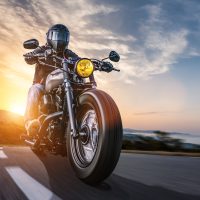 Sideswipe accidents may not seem as dangerous as other types of collisions, like head-on crashes. However, when vehicles of two different sizes are involved—such as a sedan and a motorcycle—the results can be catastrophic or even fatal.
Sadly, this was recently the case in Florida, when a sideswipe accident killed a motorcyclist. The fatal accident occurred on the afternoon of July 27 on U.S. 19 in Palm Harbor.
The crash happened when the driver of a Ford Fusion, a 68-year-old man from Tampa, turned left on Colonial Boulevard in front of a motorcyclist. The motorcycle, a 26-year-old man from Palm Harbor, sideswiped the Fusion. The man died at the accident scene. He was wearing a helmet.
It is unknown if the driver of the Fusion was injured. Three of the four traffic lanes of southbound U.S. 19 were closed for several hours as police investigated.
Sideswipe Accidents
Sideswipe accidents occur when a vehicle enters a lane that is already occupied by another vehicle. These crashes happen when a driver changes lanes abruptly without looking. They may not thoroughly look in their front, side, and rear mirrors before switching lanes. As a result, they may not see motorcycles in the adjacent lanes due to their small size. Distractions and impaired driving can also play a role. Crashes are more likely to occur when a person is intoxicated or not paying attention.
A sideswipe accident can cause significant damage to motorcycles, since they are smaller than passenger vehicles. There may be superficial damage such as scratches or stripping, especially if the bike ends up sliding. There may also be dents and dings to mirrors and fenders, There could also be structural damage to various parts of the motorcycle, such as the gas tank, engine, or suspension fork. This damage is often severe and requires extensive repairs or replacement. In severe cases, the motorcycle may even be totaled.
In addition, motorcycles face a higher risk of damage due to enhanced safety features in modern passenger vehicles. They tend to have reinforced sides, which means stronger passenger compartments, door reinforcements, and higher beltlines.
This means that injuries are also more severe. A motorcycle rider involved in a sideswipe accident may suffer road rash, broken bones, concussions, or, as seen in this case, death. A rider who survives a sideswipe crash may require extensive medical treatment and a lengthy recovery.
Contact a Personal Injury Lawyer Today
Motorcycle riders need to be very cautious when riding near other vehicles. Other drivers are not always looking out for motorcyclists, so riders need to drive defensively at all times.
Motorcycle accidents can result in serious injuries. Seek legal help from a Bradenton motorcycle accident lawyer from Cahall Law Firm. We'll assess your case and help you get as much compensation as possible for all your damages. Schedule a free consultation by filling out the online form or calling (941) 281-2019.
Source:
tampabay.com/news/pinellas/2022/07/27/fatal-motorcycle-crash-closes-3-southbound-lanes-of-us-19-near-alderman/