Father Faces Child Neglect Charge, Refuses To Take Child To Hospital After Dog Bite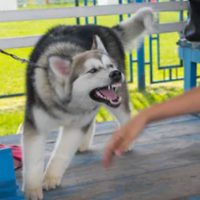 Typically, when children are bitten by dogs, their parents rush them to the hospital for immediate medical care. A man in Florida was recently arrested for neglect after refusing to take his daughter to a hospital because he "can't do hospitals."
The dog attack happened on July 28. The girl was bit by a red American bulldog in Daytona Beach. The girl was visiting from Minnesota when the dog, owned by her father and stepmother, attacked her. The father allegedly did not see the dog bite his daughter but did take the dog off her. The dog is normally vicious toward the girl, so the dog bite was not necessarily unexpected.
The girl suffered deep wounds from the attack, including a laceration under her right armpit. Her father refused to take her to the hospital, but her stepmother took her the next day. She did not want to tell the girl's mother about the attack and she refused to have photos taken of the wounds.
Police officers arrived at the family's home on July 30. They noticed oozing coming from a bandaged wound. The father and stepmother took a drug test and both tested positive for cocaine and THC. The girl and three other children were removed from the home.
The father is facing two criminal charges, including child neglect and an attack by a known dangerous dog. He is currently in police custody and is being held without bond. The stepmother has also been charged with a count of child neglect.
Dog Bite Treatment
After a dog bite, prompt treatment is necessary due to the potential of infection. If the wound breaks the skin and there is heavy bleeding, then you should get to a doctor right away. A deep and painful wound should also be looked at promptly.
If you're having trouble moving, you may have a muscle or tendon injury. A wound on the head, neck, face, genitals, feet, or hands also requires immediate medical care.
Contact a Personal Injury Lawyer Today
Dog bites happen quite often in Florida. Parents need to be prepared to get their child prompt medical care should they get attacked. Infections and other complications are possible if the wound is not properly treated.
A Bradenton dog bite lawyer from Cahall Law Firm can help you get compensation and justice for your dog bite injuries. To schedule a free consultation with our office, fill out the online form or call (941) 281-2019.
Souorce:
clickorlando.com/news/local/2022/08/01/dog-bites-girl-dad-refuses-to-take-her-to-hospital-daytona-beach-officers-say/