Types Of Consumer Fraud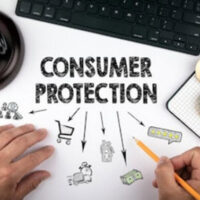 Some people will go through great lengths to get others' money—even if it requires breaking the law. Enterprising individuals are always coming up with new scams to defraud victims of their money and property. Unfortunately, there are many types of consumer fraud.
If you have a bank account, credit card, or other financial account, you'll want to know how to protect it from being compromised. Avoid being a victim. Here are some common types of fraud to look out for.
Identity Theft
Identity theft has been on the rise in recent years. Many people committed identity theft during the pandemic to take advantage of unemployment benefits and other government benefits. Identity theft involves using a person's identifying information, such as name, Social Security number, or credit card number, to commit fraud. Millions of Americans are victims every year.
Credit Card Fraud
This type of fraud is also very common. Hackers may steal your credit card information from websites you frequent and then use the information to purchase goods and services. Be alert to this type of fraud by checking your bank account daily and looking for any unauthorized or unfamiliar charges. You should also check credit card statements regularly.
Cashier's Check Fraud
This is a common scheme on Craigslist. A buyer may pay in the form of a cashier's check, only to have the check not clear. But the problem is that banks must make the funds available before the check clears, so once the check comes back unpaid, the deposit will be reversed.
Advance Fee Fraud
This is when a scammer promises you a large sum of money but asks you to send a deposit or other payment upfront. Common types of advance fee fraud include Nigerian prince schemes or deposits for large multi-million-dollar inheritances.
Phishing
Phishing involves using the internet to get personal information from victims. This usually includes sending professional-looking emails from banks and other companies you do business with. These emails will often ask you for identifying information, such as your account number or Social Security number. Do not respond to these emails. If you have concerns, call the company directly. 
Fake Charities
Scammers may use ruses such as fake charities in an attempt to get you to give them money. They may use a name that sounds similar to a well-known organization to make you think the charity is legit. The "charity" may also pressure you to give right away. Make sure you know where your money is going before agreeing to a donation.
Contact a Bradenton Consumer Fraud Lawyer Today
When people have money, there will always be people willing to take advantage of them. Fraud victims suffer both financial and emotional damages and should be compensated fairly.
Consumer fraud can be small and amateurish in scale or it can be large and sophisticated. No matter your situation, the Bradenton consumer fraud lawyer at The Cahall Law Firm can help you get compensation, closure, and justice. See what remedies are available to you. To schedule a free consultation, call our office at (941) 281-2019 or fill out the online form.
Resource:
occ.gov/topics/consumers-and-communities/consumer-protection/fraud-resources/types-of-consumer-fraud.html