HOA Dispute Over Rocks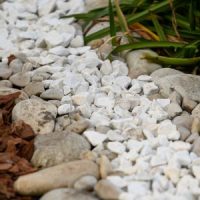 It's frustrating when homeowners cannot decorate their home and yard how they want, but that's the price of living in a homeowners association (HOA). HOAs are designed to bring uniformity to a neighborhood. They require all homeowners to obey stringent rules, especially when it comes to keeping their yard a certain way. This has led to disgruntled homeowners facing off against HOAs.
A recent dispute in Florida was no exception. This issue happened when a couple in Avalon Park were told that their home violated HOA bylaws. Why? Because their yard had white rocks.
The Avalon Park Property Owners Association sent a letter to the homeowners stating that they have two weeks to remove the stones. This was frustrating to the couple, who had just spent more than $10,000 on landscaping work.
According to the HOA, Avalon Park was developed with traditional design principles that take into consideration the regional context. As such, their neighborhood bans white landscaping rocks. Why didn't the couple know that?
Like most HOAs, the Avalon Park Property Owners Association requires property owners to get approval before making changes to the exterior of their home. This includes landscaping. The couple admitted to not following those rules.
However, the couple said they always worked to keep their property in good shape. They took the initiative to give the house some curb appeal. Before the rock landscaping, the homeowners had the house painted and always kept the exterior clean with pressure washing."
The Avalon Park Property Owners Association says that other rock colors are acceptable and they would be willing to work with homeowners on their landscaping designs. If the homeowners do not remove the rocks and do as they are told, the dispute could end up in court. The couple is going before the HOA board at a meeting in August to discuss how they can fix the situation.
Homeowners do have options when faced with these disputes and should consider hiring a lawyer to help schedule mediation or an arbitration proceeding. If you still don't get the results you desire, then your next step may be to file a lawsuit. However, keep in mind that suing is costly and time-consuming. Consult with your lawyer to see if you have a strong case.
Contact an HOA Dispute Lawyer Today
It's silly how the color of your landscaping can trigger the HOA. However, these associations are very strict as to what they allow and don't allow. Homeowners who try to fight the HOAs face an uphill battle.
But you don't have to fight on your own. A Bradenton homeowners association dispute lawyer from Cahall Law Firm can assist you with the grievance process and gather evidence to help you get the best outcome possible. Fill out the online form or call our office at (941) 281-2019 to schedule a free consultation.
Source:
fox35orlando.com/news/avalon-park-couple-in-dispute-with-hoa-over-decorative-stones-in-yard