Florida Woman Sues Bonefish Grill For Slip And Fall Injuries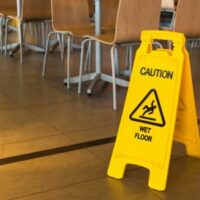 When we visit a restaurant, we expect to eat our meal in a safe environment, without any accidents or injuries. Unfortunately, this does not always happen. Restaurant employees carry food and beverages to customers located all over the facility. This can lead to spilled liquids, debris, and other hazards that can cause a customer or employee to slip and fall.
A Florida woman is suing Bonefish Grill for injuries she suffered after slipping and falling on a substance. The incident happened on January 23 at 21065 Powerline Road in Boca Raton. The woman filed a lawsuit claiming that she slipped on a liquid substance that was on the floor for a long time.
Due to the fall, the woman suffered from permanent bodily injuries. She is suing for medical expenses, scarring, disfigurement, pain and suffering, and loss of enjoyment of life.
The lawsuit was filed against Bloomin Brands, which owns Bonefish Grill, Carrabba's Italian Grill, Outback Steakhouse, and Fleming's Prime Steakhouse & Wine Bar. While the exact amount of damages the woman is seeking is unknown, the lawsuit is seeking at least $30,000, which is the minimum for filing in state court.
Causes of Slips and Falls in Restaurants
A slip and fall in a restaurant can happen in the following instances:
Poor lighting. Restaurants do not always have the best lighting. Burned out light bulbs and ambient lighting can emit inadequate light, causing a person to trip and fall.
Poor maintenance. This may include leaking sinks, melted ice on the floor, ripped floors, and broken tables and chairs. All these issues can cause a person to fall and suffer serious injuries.
Spills can happen in the kitchen, restroom, or floor near a customer. They can be caused by spilled food or beverages.
Flooring issues. Floors that have not been properly maintained may cause issues. Carpets can rip and tear. Hardwood flooring can buckle or grow mildew due to contact with moisture. Wear and tear can cause tile floors to deteriorate.
If an object is blocking your path, it can make you more likely to slip or trip. Some examples include plants, floor mats, signs, and displays.
What To Do if You Are a Victim
If you have suffered from a slip and fall accident at a restaurant, seek medical treatment immediately. Get a copy of a written incident report. Get photo evidence of where you fell and your injuries. You may also want to take notes on what happened. If there were witnesses, get their contact information.
Even if you don't think you're injured, you should see a doctor as soon as possible. Some injuries are not apparent right away, and it looks bad if you wait too long to file an injury claim. Contact a lawyer and have them assess your claim and determine liability.
Contact a Bradenton Personal Injury Lawyer Today
Slip and fall accidents can cause serious injuries. Many cause long-term mobility issues and may require surgery.
The Bradenton personal injury lawyer at The Cahall Law Firm can help you recover compensation for your injuries. We will hold the property owner accountable for your damages. Fill out the online form or call (941) 281-2019 to schedule a free consultation.
Resource:
bocanewsnow.com/2021/06/18/bonefish-grill-sued-after-boca-raton-slip-and-fall/