Nursing Home Worker Arrested, Jailed For Elder Abuse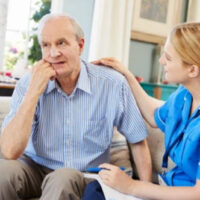 What will you do when your parents become seriously ill and can no longer care for themselves? Will you try to care for them yourself or will you place them in a nursing home?
Many people reluctantly choose to put their loved ones in a nursing home. Many people mistakenly assume that all nursing homes employ skilled staff to properly care for their patients. The truth is that many employees are not experienced or even qualified. As a result, many employees abuse or neglect patients.
This was recently the case in Florida, and it led to a worker being arrested and jailed for her actions. The 42-year-old licensed certified nursing assistant was arrested and jailed on the morning of June 23 after abusing a resident.
The woman worked at The Palace Renaissance & Royale, located at 11355 SW 84th Street in Miami. She was caught on camera slapping and pulling a resident's hair. The resident was an 87-year-old woman who suffers from Alzheimer's disease.
The abuse began in 2018. A man hired a personal aide to take care of his mother at the assisted living facility. The aide informed the man that his mother had bruises, but there was no explanation for them. The man hid a camera in an alarm clock and was soon able to determine how his mother got the bruises.
After a week, the man obtained the video footage and saw the nursing assistant pulling his mom's hair. The footage also showed his mom getting slapped in the face by the nurse.
The nursing assistant is currently in Miami-Dade County Jail and faces two counts of elderly adult abuse. The woman received her license in June 2011 and had no prior criminal history.
What Causes Nursing Home Abuse?
Why would someone harm a defenseless nursing home resident who is mentally and/or physically disabled? Nursing home employees who engage in resident neglect are clearly unfit for their job. Many of the employees are not properly trained, lack experience and earn low wages. Nursing homes are often severely understaffed and desperate for the help.
Because the employees have little training and experience, they don't know how to handle unruly residents. Therefore, they may lash out in stress and frustration.
Staff turnover is very high in nursing homes, which makes it hard for residents to get proper care. One employee may have dozens of residents in their care, which may mean that some get neglected. Residents may not get food, water, or medication. They may not get dressed or cleaned, causing their hygiene to suffer. They may suffer from bed sores and other medical conditions due to the neglect.
Contact a Bradenton Personal Injury Lawyer Today
Don't assume that a nursing home will take good care of your loved one. Many of these facilities are understaffed and may neglect and even abuse their patients.
If your loved one has suffered injuries while in a nursing home, seek legal help from the Bradenton personal injury lawyer at The Cahall Law Firm. We will assess your case and help you seek justice. Schedule a free consultation by calling (941) 281-2019 or filling out the online form.
Resource:
miamiherald.com/news/health-care/article252305423.html