Florida Man Arrested For Assault In Hot Ramen Noodle Case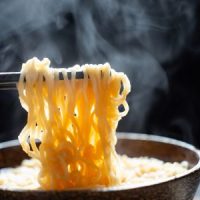 When you think of assault and battery, you may imagine someone hitting someone, either with their hand, first, or object. Do you think of someone throwing hot noodles on someone else's head? Probably not.
However, that's what recently happened in Florida. And while the situation may sound somewhat amusing, it's a serious act that landed the offender in jail.
Police responded to a domestic violence call about a woman whose boyfriend tossed ramen noodles on her head.
The 21-year-old man from Fort Pierce allegedly allowed his dog on the couple's shared bed. This led to an argument in which the man poured a hot pot of noodles on the woman's head.
That was the woman's side of the story anyway. The man told a different version of the incident. He claimed that he woke up and made a pot of noodles. The woman then allegedly started chasing the dog around the kitchen and slipped. She fell atop the hot ramen noodles as they were on the stove still cooking, according to the man
However, the woman said that she and the man had an argument about the dog. That was when the man tossed a pan of hot ramen noodles on her, hitting her on the back with the hot pot.
The man was arrested for a misdemeanor count of domestic battery. He was booked at the Lucie County Jail, where bail has been set at $5,000. The man has a lengthy arrest record that includes driving without a license, cocaine possession, and resisting police.
Assault With Food
"Assault with a deadly noodle" may seem funny, but getting assaulted by noodles or other foods is not a laughing matter. Hot, scalding food can seriously injure someone, causing serious burns.
Dumping food on someone, throwing food at them, and spitting in their food are all examples of assault. Harassment while you're delivering food as an UberEats worker can be an example of assault.
You might have seen news stories about customers throwing food at restaurant or fast food employees. Yep, they can be charged with assault.
Assault does not need to involve someone's bare hand or object such as a bat, knife, gun, or stick. If somebody threw something—food or otherwise—and it caused injury to someone, it could be considered assault or battery. These are typically misdemeanor charges, but could be felonies in extreme cases.
Contact a Personal Injury Lawyer Today
While it may seem a bit much that getting covered in hot noodles would qualify as assault, it was an intentional tort that resulted in injuries. That is enough for a criminal charge.
Have you been injured by someone else's actions? If so, let a Bradenton assault lawyer from Cahall Law Firm help you with your case. We have experience helping victims obtain compensation for their injuries. Schedule a free consultation today by calling (941) 281-2019 or filling out the online form.
Resource:
popcrush.com/florida-man-ramen-noodle-battery-jail/