Elder Abuse On The Rise Amidst Pandemic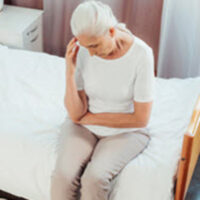 The coronavirus pandemic has caused a lot of issues in Florida and across the country. People are getting seriously ill and even dying from COVID. Many have lost their jobs. A lot of people are struggling financially.
Companies all over are seeing labor shortages and this is having a huge impact on nursing homes. Not only are residents getting isolated from loved ones due to the spread of the virus, but they are also suffering personal injury as a result of being abused and neglected by untrained and inexperienced nursing home staff.
The pandemic exposed staffing issues in nursing homes. Research has found that nursing homes are chronically understaffed and the shortages have become particularly acute since the COVID pandemic started, making it difficult for nursing homes to provide quality care.
Now, each staff member may work with 12 to 15 residents at a time, much more than the seven or eight residents they were responsible for in the past, before the pandemic. Because of this, patient feeding and hygiene is often cut short. In order to get to each resident, staff members often have to move on quickly.
Visits Prohibited by Family Members
With family members not allowed to visit due to COVID restrictions, the lack of care that they previously provided has only made the situation worse. Prior to the pandemic, family visitors often helped nursing home staff with tasks such as eating, hygiene, and communication with staff.
Without family visitors, many residents have seen their health deteriorate. Some family members say their loved ones in nursing homes have seemed more tired and less social once the pandemic hit. Some are even losing weight, dehydrated, and suffering from bedsores. Investigations into nursing homes have shown an increase in weight loss, depression, and severe bed sores during the pandemic.
Family members are noticing a lack of communication as well. They are not being informed of any changes to their loved ones' health. Some are deteriorating rapidly and dying of sepsis and other complications from infections.
Fortunately, most nursing home revisitation was reauthorized in March 2021, once nursing home residents and staff members got vaccinated. But for residents who have been abused or neglected, there aren't many lethal options.
While there have been concerns about how badly nursing home residents have been treated during the pandemic, 38 states have passed laws shielding nursing homes from civil liability. Florida is one of those states.
Contact a Personal Injury Lawyer Today
Nursing home abuse and neglect can lead to serious injuries and even death. Nursing home residents and their families need to be aware of the dangers of nursing homes.
Let the Bradenton personal injury lawyer at the Cahall Law Firm help you with your nursing home abuse case. We'll assess your case and hold the nursing home responsible for your loved one's injuries. We'll help you get justice. Schedule a free consultation today by calling (941) 281-2019 or filling out the online form.
Resource:
hrw.org/news/2021/03/25/us-concerns-neglect-nursing-homes