Burger King Sued For Misleading Consumers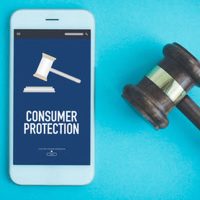 Do you believe all the advertising you see? Advertising encompasses many types of marketing. These marketing strategies are designed to make viewers feel emotions, often coercing them to buy a specific product or service.
Burger King is being accused of consumer fraud after four people filed a lawsuit claiming that the portion sizes of many of the fast food restaurant's popular sandwiches are "overstated." According to the lawsuit, which was recently filed in the U.S. District Court in Southern Florida, the plaintiffs are alleging a 35% size difference between the marketed burgers and the actual burgers.
The lawsuit is alleging that since September 2017, Burger King has claimed in its advertising that the meat "overflows over the bun" and the sandwiches, particularly the ones in the Whopper and King lines, contain "more than double the meat."
Based on Burger King's misleading advertising, the plaintiffs are suing the fast food restaurant for breach of contract, unjust enrichment, and negligent representation. The plaintiffs are seeking unknown damages as well as a court order for Burger King to stop misrepresenting the size of its food offerings.
The lawsuit was originally filed by four people from Florida and New York, but since the filing, more than 100 people have joined in. The lawsuit seeks to represent anyone who believes they were misled by Burger King's advertising.
Burger King has not yet commented on the lawsuit. This was not the first time the fast food chain was sued for false advertising. In 2019, it was sued by a vegan customer who claimed that the Impossible Whopper—a plant-based alternative to the Whopper—was contaminated by meat.
What is False Advertising?
Most companies lure in customers through advertising. But is this advertising a true representation of the business' offerings? Not always. Products can be misrepresented in a number of ways, such as:
When a consumer sees a photo of a hamburger overflowing with meat, they expect to receive that. This is the main issue with the Burger King lawsuit. The photos in the advertising show the hamburger as much bigger than the actual product.
Bait and switch. This is another common issue. Companies sell a product for a cheap price and once you get to the store, they try to sell you something more expensive.
Quantity issues. There may be limitations on the amount of product you can buy or you have to buy multiple products in order to get the discounted price.
Contact a Consumer Fraud Lawyer Today
While many companies do take advantage of customers, are fast food consumers being misled? Don't people know that advertising tends to stretch the truth? What are the guidelines here?
A Bradenton consumer fraud lawyer from Cahall Law Firm can discuss your unique situation and determine if you have been a victim of consumer fraud. Schedule a free consultation with our office today to learn more. Fill out the online form or call (941) 281-2019.
Source:
eatthis.com/news-burger-king-sued-for-burgers-size/