Woman Killed In Multi-Vehicle Crash In Palm Bay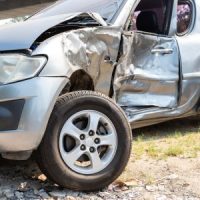 Going too fast on the interstate and failing to slow down in time is a recipe for disaster. Sadly, this was recently the case for a Florida woman. She did not brake in time, causing a multi-vehicle crash that led to her death.
The fatal accident occurred on the evening of October 27 on Interstate 95 in Palm Bay. The 44-year-old woman from Palm Bay was driving a Chevy Cruze in the southbound lanes of the interstate, near mile marker 174. She saw a Toyota FJ Cruiser up ahead, but could not stop in time. She tried to swerve to avoid a crash, but a portion of her vehicle still rear-ended the Toyota.
A truck hauling a trailer then hit the Chevy, with debris hitting an SUV nearby. The Chevy got pushed into a guardrail and caught fire. The entire vehicle became engulfed in flames. The driver of the Chevy was killed in the crash. The drivers of the other vehicles remained at the accident scene. Nobody else was injured. The roads were closed for approximately four hours as crews investigated.
Why You Don't Want to Slam on Your Brakes
When you suddenly come up to a stopped car, you may instinctively want to slam on your brakes. In an ideal situation, you would have enough time to stop and brake smoothly rather than slam on the brakes and pray for the best. That's because hitting the brakes too hard can cause damage to your car. For example, it can:
Cause an accident. You probably slam on the brakes to avoid a crash but it can actually have the opposite effect. You can easily lose control on slippery roads and hit another car or other object. Even if you don't hit anything, you could cause whiplash to yourself or your passengers.
Overheat the brake pads. Brake pads and rotors work together to slow and stop your car. Going from 60 to 0 in a couple of seconds causes extra stress and heat on the brakes and rotors. This can lead to excess wear, which can make it harder to stop your vehicle.
Wear out the anti-lock brake system. Slamming on the brakes causes the anti-lock brake system (ABS) to kick in when it's not necessary. This can cause the system to wear out quickly so you won't have high-quality brake performance in an emergency.
Cause tire damage. Older vehicles with no ABS can get flat spots on the tires when a driver slams on the brakes. You'll know if you smell burnt rubber or hear a "thump thump" sound.
Contact a Personal Injury Lawyer Today
Driving requires a lot of focus. It's important to always be looking ahead to avoid a crash.
A Bradenton car accident lawyer from Cahall Law Firm can help you resolve your car crash case. We understand how scary and overwhelming these accidents can be. Schedule a free consultation today by calling (941) 281-2019 or filling out the online form.
Source:
clickorlando.com/news/local/2022/10/28/woman-killed-in-fiery-4-vehicle-crash-on-i-95-in-brevard-county/