1 Killed, 1 Injured In SUV/Scooter Crash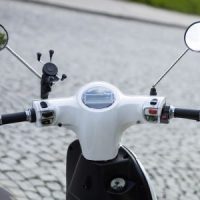 Mopeds and scooters are a great way for people in busy Florida cities to quickly get around town and save money on gas in the process. However, these vehicles have some downsides. They are small and hard for other drivers to see. Plus, when a crash does happen, those on the scooter are more likely to suffer catastrophic injuries and even die.
Sadly, this was recently the case in Florida. A motorized scooter collided with an SUV, killing one person. The fatal accident occurred on the morning of October 23 on Alabama Street in Tallahassee.
The gas-powered scooter and an SUV collided in the 1600 block of Alabama Street. Details about how the crash occurred are unknown. However, there were two people on the scooter. One person, an unidentified man, was killed in the crash. The other rider, a woman, suffered serious injuries and was taken to a local hospital for treatment.
It is unknown if anyone inside the SUV suffered injuries in the accident. The Tallahassee Police Department is still investigating the crash.
Scooter Injuries
Motorized scooters have become popular in recent years. Companies such as Bird and Lime have made it easy to rent scooters in large cities. As long as the person is over the age of 18, has a valid driver's license, and signs a waiver, they can pretty much rent a scooter and drive it around town, without any prior training.
Because of this, scooter accidents have become very common. These small scooters are often electric, maxing out at 15-20 miles per hour. However, there are gas-powered scooters that users can buy for personal use and they can often go 40-50 miles per hour.
No matter how fast these scooters can go, if a person is not familiar with their use, then they can cause serious accidents. Scooters are not driven the same as motor vehicles. They use handlebars instead of a steering wheel, so operation can be difficult at first.
Scooter accidents can occur between motorists, pedestrians, and bicyclists. They can lead to a variety of injuries, including broken bones, dislocated joints, neck and spine injuries, cuts, and bruises. Because most users do not wear helmets, head injuries are also quite common. Concussions happen frequently and can occur even while wearing a helmet.
These injuries can be catastrophic in nature, causing paralysis, amputation, brain damages, and other lifelong injuries. It's important that you seek legal help to ensure you get full and fair compensation for all your physical and emotional damages.
Contact a Personal Injury Lawyer Today
Scooters can be fun to ride in the warm Florida weather, but they are small and prone to accidents. This is especially true when they are not driven properly.
If you have been injured, see how a Bradenton moped & scooter accident lawyer from Cahall Law Firm can help you with your case. Come get justice. To schedule a free consultation, fill out the online form or call (941) 281-2019.
Source:
tallahassee.com/story/news/2022/10/23/tallahassee-scooter-crash-suv-leaves-one-dead-one-injured/10582587002/