Understanding The Attractive Nuisance Doctrine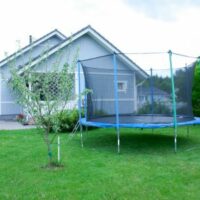 As a homeowner, you may be aware of the importance of making your property safe for visitors. This is part of premises liability law. However, removing ice from your sidewalk, fixing broken steps, and covering up holes may not be enough. You have to make concessions for children, too, whether or not they are invited to your home.
Under Florida law, children are protected under the Attractive Nuisance Doctrine. This means that if a young child (around the age of 6 or 7) trespasses onto your property because they are attracted by something they see there—such as a pool, trampoline, or play structure—and they get injured as a result, you could be held liable. You would likely be required to pay for medical bills and other damages.
This means that while you're not liable for adults who trespass onto your property and get injured, you have an obligation to maintain your property in a way that would keep children safe if they were to enter your property without your permission.
This is because children are not always mature and knowledgeable enough to know what constitutes a danger. Young children are especially oblivious to the dangers they may face, so the law protects them in this regard. Therefore, if you are a property owner and you think children might come onto your property, you have an obligation to keep the child safe and free from harm. If you fail to do so, liability will likely be placed on you.
Elements of the Attractive Nuisance Doctrine
There is an attractive nuisance on your property if these four elements are met:
A potential danger exists on the property
The property owner created the hazard.
The property owner knew that the hazard could attract children.
The property owner knew that the hazard could harm children.
Examples of Attractive Nuisances
The following items are considered to be attractive to children and a homeowner, you would liable if a child got injured on them on your property:
Pools
Fountains
Playground equipment
Treehouses
Construction equipment
Railroads
Holiday decorations
Trampolines
Old cars
Machinery
Wells
Ladders
Piles of junk
Sand and gravel piles
What is Not an Attractive Nuisance?
As a homeowner, you're not responsible for everything on your property. The following things are not legally considered attractive nuisances and you are therefore not liable for them:
Lakes
Ponds
Cliffs
Hills
Choking hazards, such as sticks and acorns
Contact a Bradenton Personal Injury Lawyer Today
Premises liability is a tricky area of law. The laws are not always clear-cut and liability is often determined on a case-by-case situation. A homeowner's obligations can be especially challenging to identify when children are involved and they are trespassing on someone else's property.
If you or your child has been injured on someone else's property or you are a homeowner who is being sued, seek legal help from the Bradenton premises liability lawyer at the Cahall Law Firm. We'll assess the situation and help you understand the next steps. To schedule a free consultation, call (941) 281-2019 or fill out the online form.
Resource:
nationwide.com/lc/resources/home/articles/attractive-nuisances