Motorcyclist Killed In Multi-Vehicle Crash In Bradenton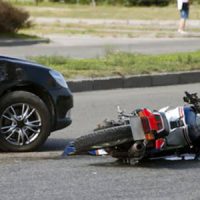 In multi-vehicle crashes, the motorcycle has the disadvantage. These vehicles are small and hard to see. In the event of an accident, the motorcycle is likely to be severely damaged, with the rider suffering catastrophic injuries or even fatality.
Unfortunately, this was recently the case with a motorcycle rider from Bradenton. The man was killed in a crash involving two other vehicles. The fatal accident occurred on the evening of November 12 at Upper Manatee River Road and Third Avenue Northeast in Bradenton.
The 38-year-old man was riding his motorcycle on Third Avenue when he failed to stop for a stop sign at the intersection. The man entered the intersection in front of oncoming traffic and  lost control of the motorcycle.
The motorcycle collided head-on with an SUV traveling north on Upper Manatee River Road. The impact caused the motorcycle rider to be knocked off of the bike. He fell onto the road and was hit by a sedan traveling north. Emergency crews responded to the crash site. However, the motorcyclist died at the accident scene.
The occupants of the SUV were not injured. They include a 38-year-old woman and 15-year-old boy from Parrish. The driver of the sedan, a 60-year-old Bradenton man, also was not injured. The crash is still under investigation.
Dangers of Running Stop Lights and Red Lights
Running red lights and stop signs is not only illegal but also dangerous. Many motorists run them because they think they can save time or maybe they are dared to do so by peers. Maybe they didn't see any traffic at the time or perhaps they were distracted and didn't see the stop sign. In any case, the outcome can be a serious or fatal crash.
If you do run a red light or stop sign, there are a lot of things that could happen. You could hit another vehicle that does have the right of way. Also, another car could hit you, and this can put yourself and your passengers in a lot of danger.
Another thing to consider is that you could hit a pedestrian or bicycle rider. You may not see these people on the side of the road, and accidents are especially common at night or in areas with low visibility. That's why motorists need to drive in a safe and predictable manner.
Plus, no stopping is illegal and you could receive a traffic ticket. This may mean fines, traffic school, and points on your license.
Contact a Personal Injury Lawyer Today
Traffic signs and signals are in place for a reason. They help with traffic flow and prevent accidents. When motorists do not follow these signs, then they could be involved in a serious accident.
Sadly, motorcycle riders are often victims of these crashes. If you or a loved one has been a victim, a Bradenton motorcycle accident lawyer from Cahall Law Firm can assist you with your case. We'll help you get the compensation you deserve. To schedule a free consultation, fill out the online form today or call (941) 281-2019.
Source:
bradenton.com/news/local/article268697592.html