Motorcycle Rider Killed In Rear-End Accident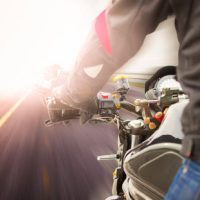 Many people enjoy riding motorcycles in Florida. While it's a fun activity, it's also a dangerous one. One wrong move can be fatal for a motorcycle rider.
Sadly, this was recently the case in Kissimmee, when a rider failed to slow down and rear-ended an SUV. The fatal accident occurred on the afternoon of July 13 on Simpson Road.
The motorcycle rider, a 21-year-old man, was heading south on Simpson Road. An SUV was stopped ahead of him, but the motorcyclist failed to stop. The rider rear-ended the SUV. The rider was ejected. The driver of the SUV, an 82-year-old man, was injured.
Both men were taken to a local hospital. The driver suffered minor injuries, but the rider later died. The crash is still under investigation.
Liability in Rear-End Accidents
In a rear-end accident, there is a legal presumption that the driver of the vehicle that strikes the rear of another vehicle is at fault. The theory behind this is that drivers need to leave adequate room between themselves and other vehicles. When a vehicle is too close to a vehicle in front, they are considered to be tailgating. When a driver is tailgating, they may not be able to react to the vehicle in front making a sudden stop. This can lead to a serious accident.
In some cases, like this one, speed is involved. When a driver is going too fast and does not see the vehicle stopped in front of them, serious crashes can result.
However, there are some situations in which the vehicle in front can be held liable for a crash. Some examples include:
Reversing into a car. If the vehicle in front suddenly goes into reverse, the vehicle behind them may not be able to get out of the way in time.
Drunk driving. Drunk driving is a serious issue. A person who is intoxicated lacks proper judgment and their reaction time is decreased, making accidents more likely.
Intentionally trying to get hit. A driver may try to get in an accident on purpose for insurance reasons. This is a type of fraud and it is illegal.
Driving with broken brake lights. When parts of a vehicle, such as lights, are not working properly, drivers may be confused about the other driver's intentions. They may not know that the vehicle is stopped in the road, for example, and this can lead to a rear-end accident. The driver of the vehicle with the broken brake lights would be at fault.
Contact a Personal Injury Lawyer Today
Speed is a common factor in motorcycle accidents. When a rider doesn't slow down in time, they can cause a serious accident. They can get severely injured or killed.
If you have been injured in a motorcycle crash, seek legal help right away. A Bradenton motorcycle accident lawyer from Cahall Law Firm can help you get the most compensation possible for your injuries. Come get justice. To schedule a free consultation, fill out the online form or call (941) 281-2019.
Source:
clickorlando.com/news/local/2022/07/14/kissimmee-motorcycle-crash-kills-rider-injures-driver-troopers-say/