Wrongful Death In Florida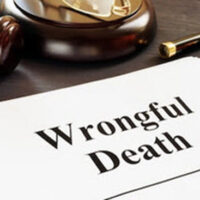 There are many instances in which a person can be killed by someone else's negligent or reckless behavior. Some examples include auto accidents, falls, medical malpractice, drowning, defective products, poisoning, and workplace accidents.
A person can be liable for wrongful death whether they acted negligently, recklessly or deliberately. While some wrongful death actions are based on criminal conduct such as assault or drunk driving, a criminal act is not required to recover damages in a wrongful death action.
Proving Wrongful Death 
To file a claim for wrongful death based on someone's negligence, you must have four elements:
The defendant must have owed your loved one a legal duty to act with a reasonable standard of care. For example, drivers have a duty to stay safe on the road.
Breach of duty. There must be proof that this duty was breached.
The defendant's breach of duty must have been the cause of your loved one's death.
The death must have resulted in damages. Damages may include medical expenses, hospitalization, funeral and burial costs, loss of income, loss of protection and support, and mental pain and suffering of the surviving family members. 
Who Can Sue for Wrongful Death?
Florida's wrongful death laws are among the strictest in the nation. Under Section 768.21, Florida Statutes, the surviving spouse and minor children (under the age of 25) are primarily the only family members who can file a lawsuit and seek compensation for damages. Each may recover compensation for lost support and services.
The surviving spouse may also obtain compensation for loss of companionship and protection, as well as mental pain and suffering. Minor children of the decedent may sue for loss for parental companionship and mental pain and suffering.
The estate's representative can also recover compensation for lost wages and medical and funeral expenses. If the deceased was a child, the parents may receive compensation for mental pain and suffering.
Statute of Limitations
In Florida, a statute of limitations applies in wrongful death cases. You generally have two years from the date of the person's death to file a lawsuit. However, if the death was caused by manslaughter or murder, a lawsuit can be brought about at any time. This is true even if the defendant has not yet been convicted of the crime.
Contact a Bradenton Wrongful Death Lawyer Today
When a loved one dies due to someone else's negligence, it's imperative that you get the compensation you deserve. An unexpected death can result in funeral expenses, loss of companionship, loss of support, and other damages.
If you are dealing with the wrongful death of a loved one, the Bradenton wrongful death lawyer at The Cahall Law Firm can help bring justice and closure. Schedule a free consultation by calling (941) 281-2019 or filling out the online form.