Pedestrian Killed In Pompano Beach Crash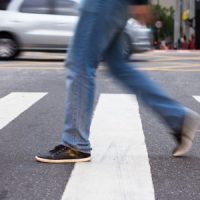 In an ideal world, pedestrians and vehicles would coexist safely on the roadways. Unfortunately, though, that does not always happen. Pedestrians get hit by vehicles often, and the results are often fatal.
Sadly, this was recently the case in Pompano Beach. A pedestrian was hit and killed by a vehicle at North Dixie Highway and West Sample Road on the afternoon of September 28.
A woman was driving a Honda Accord on West Sample Road. She was approaching the intersection of North Dixie Highway when the pedestrian stepped in the path of the Honda. She was hit by the vehicle's front passenger side.
Broward Sheriff's Office Fire Rescue responded to the crash and found an unresponsive woman on the ground. She died at the accident scene. The driver remained at the crash site.
Detectives from the homicide department are investigating the case. It is known that speed and impairment are not factors in the accident.
Causes of Pedestrian Accidents
Motorists and pedestrians have duties. Under Florida law, pedestrians who are crossing a road in a road other than a marked crosswalk or an unmarked crosswalk at an intersection must yield the right-of-way to all vehicles upon the roadway. Motorists must stay alert and focused while driving so that they do not hit pedestrians.
Pedestrian accidents can happen in many ways. Here are some top causes:
Distracted driver. Drivers often engage in activities that cause them to lose focus of the road. This may include texting, changing radio stations, eating, reading, and talking to passengers. These acts can cause drivers to hit a pedestrian.
Intoxicated driver. Alcohol and drugs can cause intoxication. A driver who is intoxicated lacks judgment and coordination. They may not be able to drive properly. They may run stop signs and red lights, hitting pedestrians.
Pedestrians darting out in front of drivers. Pedestrians cannot assume that drivers will always see them. They should cross at marked crosswalks and intersections when possible and always yield to vehicles. When they run out in front of unsuspecting drivers, the drivers may not be able to stop in time, causing a serious accident.
Visibility issues. Many pedestrian accidents happen at night due to the darkness. Drivers cannot see people in the road too well. This is especially true if the pedestrian is wearing dark clothing. Pedestrians should wear bright clothing and carry a flashlight when walking at night. This will make it easier for motorists to see them.
Contact a Personal Injury Lawyer Today
Pedestrians face considerable risks when walking around vehicles. They have no protection, so a collision with a car can cause significant injuries.
If you have been injured in a crash, see how a Bradenton pedestrian accident lawyer from Cahall Law Firm can help you with your case. We'll assist you in getting compensation and justice. To schedule a free consultation with our office, fill out the online form or call (941) 281-2019.
Source:
local10.com/news/local/2022/09/29/pedestrian-struck-killed-by-vehicle-in-pompano-beach/