Florida Workers' Comp Broker Files Defamation Lawsuit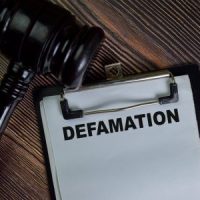 A workers' compensation insurance broker based in Florida has filed a defamation lawsuit against another company because its badmouthing allegedly cost it its relationship with an insurance company. Comp360 LLC, headquartered in Lakeland, recently filed a defamation lawsuit in federal court against KT Enterprises, claiming that the company spread misinformation about them to Summit Insurance Co. This allegedly caused Summit to drop Comp360 as a broker.
Details about the alleged defamation in question and what exactly was said are unknown. What is known is that in June 2021, staff at KT Enterprises began feeding misinformation to Summit Insurance, telling them lies about Comp360 and its principal in an attempt to destroy the relationship between the two companies.
It appears as though the lies and badmouthing may have worked, as the lawsuit by Comp360 claims tortious interference. Summit Insurance dropped Comp360 as a broker shortly after the defamation started. The lawsuit claims that KT Enterprises engaged in the dishonest practice due to its competition with Comp360 over the same clients and vendors. The goal was to remove a key insurer from Comp360 so that KT Enterprises could obtain a larger market share and engage in unfair competition. The company allegedly offered products that Comp360 could not because of the interference with the relationship.
The lawsuit is asking for more than $100,000 in compensatory and punitive damages. KT Enterprises has not yet answered the complaint.
Contact a Defamation Lawyer Today
Talking trash about a competitor is a strategy that's as old as time, but sometimes such scathing remarks can cost someone their reputation, business, and more.
At the Cahall Law Firm, we understand that words hurt—a lot. A Bradenton defamation lawyer can assess your situation and determine your legal options. You may be able to claim economic and non-economic damages. To schedule a free consultation, call (941) 281-2019 or fill out the online form.
Resource:
insurancejournal.com/news/southeast/2022/03/02/656226.htm