Florida Ranked Most Dangerous State For Pedestrians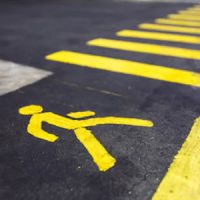 As a tourist area, Florida sees a lot of foot traffic. Pedestrians walk to popular attractions such as Walt Disney World, Universal Orlando Resort, SeaWorld, Magic Kingdom Park, and many other great parks. While walking may be more convenient than trying to find an empty parking spot in this busy state, it also comes with dangers—sometimes even death.
Unfortunately, both drivers and pedestrians make unsafe maneuvers. Drivers don't expect pedestrians to walk out into busy intersections and pedestrians don't expect drivers to run stop signs, especially when a pedestrian is in a crosswalk, but these situations happen quite often.
Pedestrian fatalities have become an alarmingly regular occurrence, especially in urban areas. Things are especially bad in Florida, which has been ranked as the most dangerous state for pedestrians.
Why is Florida so Dangerous?
Florida is the most dangerous state for pedestrians because of its high pedestrian fatality rate. In 2019, there were 713 pedestrian deaths in the state. There were also 3,183 traffic fatalities. Florida also has a high number of uninsured drivers, at more than 20%. This is a frightening statistic given that insurance is required in the state and there is a high population, at more than 21 million people. But given that the population is less than California, which is the most populous state at more than 39 million people, there is still a high number of pedestrian fatalities.
Staying Safe
Here are some things pedestrians can do to avoid accidents:
Limit distractions. Watch where you are going when you are walking, especially if you are crossing a street. Avoid looking at your phone or listening to music, which can keep you from seeing and hearing approaching vehicles.
Use designated crosswalks. Using crosswalks is generally safer than jaywalking. Jaywalking is more dangerous and can open you up to liability if you are hit.
Make yourself more visible. Walking in the dark makes you more prone to accidents due to a lack of visibility. Carry a flashlight, wear bright colors, or anything else that makes you more visible to cars.
Stay out of the road. Avoid walking in the road, if possible. Use sidewalks and designated walkways to keep you away from traffic.
Contact a Personal Injury Lawyer Today
Pedestrian accidents are common events in Florida. It's important for everyone who uses the roadways to look out for each other and stay safe.
Pedestrian laws can be complicated. A driver can face serious legal consequences. Who is at fault for your accident? Get answers from a Bradenton pedestrian accident lawyer from Cahall Law Firm. Call (941) 281-2019 or fill out the online form to schedule a free consultation with our office.
Source:
bankrate.com/insurance/car/most-dangerous-states-for-pedestrians/