Bad Faith Insurance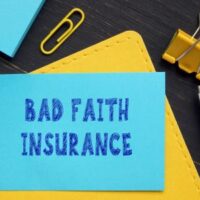 When we get into an accident or our house is hit by a hurricane, we typically have insurance to help pay for the damages. However, insurance companies don't always approve claims. Some are denied because they are fraudulent or don't meet the guidelines. There are some, however, that are denied even though they should be covered claims. When this happens, a claim for bad faith may be made.
Bad faith insurance is essentially when an insurance company goes back on their promises to the policyholder. Insurance companies engage in bad faith for one main reason: money. When they are forced to pay out claims, they lose money. Therefore, many insurers will deny claims or if they do pay the claim, they will pay very little.
If you have a valid claim that was denied for no apparent reason, you should let the insurance company know. If they fail to make things right, it's time to hire a lawyer and get the compensation you deserve for your claim.
Examples of Bad Faith Insurance
Here some common ways in which insurance companies may engage in bad faith:
Refusing to pay a valid claim. If you file a claim for something that is covered by your policy, and the insurance company denies it, then that is bad faith.
Denying a claim for no reason. If your insurance company denies a claim, there needs to be a valid reason. They cannot deny your claim simply because they feel like or don't want to spend the money.
When an insurance company offers much less than your claim is worth, that is called lowballing. This is a common tactic by insurers.
Delaying claim payment. If your claim has been approved, it needs to be paid as soon as possible. If your insurer is dragging their feet and delaying payment for months, this could be bad faith.
Improper investigation. Investigations must be completed thoroughly and promptly. They should not be incomplete or take many months.
Refusing requests for documentation. If the insurance company denies your claim, you have the right to ask for documentation supporting their decision. If they refuse to hand over the documents, that can be considered bad faith.
Employees of insurance companies should never threaten clients. If a representative accuses you of something or calls you names, that can also be considered bad faith.
Insurers must be truthful about the law and their policies. They should not misrepresent them or flat out lie in order to avoid paying a claim.
Contact a Bradenton Insurance Litigation Lawyer Today
It can be frustrating when you depend on your insurance company to help you out in the event of an accident, only to get a valid claim denied. Don't just sit there and let this happen. In these situations, your insurer could be sued for bad faith.
When your insurer denies your claim, count on the Bradenton insurance litigation attorney at Cahall Law Firm to investigate the situation and help you understand your legal options. Schedule a free consultation today by calling (941) 281-2019 or filling out the online form.
Resource"
investopedia.com/terms/b/bad-faith-insurance.asp