Social Media Use After A Car Accident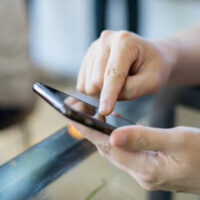 Many of us are addicted to social media. We may post numerous photos and daily updates to Facebook or Instagram. Many people are on their phones constantly checking for updates.
Social media can keep you connected to friends and family, but it's not a good idea to use it after a Florida car accident. But why not?
After an accident, the insurance companies get involved. They want to pay you as little as possible for your injuries, so you can bet that they will be looking for evidence against you. This means that the insurance companies may use everything you say and do against you. The insurance companies may be combing through your social media accounts or even using an investigator to spy on you.
That's why you need to be careful about what you post online. Here are some tips for social media use after a car accident.
Avoid Any Mention of the Accident
While you may want to tell your friends and family about what happened, posting all the details on social media is not a good idea. If your case is pending, you don't want to be sharing everything online. You never know who could be looking at your posts. It could be insurance companies or others who are out to get you.
Avoid Rants and Apologies
Social media is not the place to rant about the insurance company or apologize for your actions. Should the insurance company come across your posts, they will view them in a negative light. They could see you as vindictive and at fault for the crash.
Avoid Posting Photos
Even if the photo is old, if the insurance company stumbles upon it, and it shows you engaging in activities (even though the car accident has limited your mobility), it can be used against you. So be safe and avoid posting any photos, old or new.
Change the Settings
Your social media account may be viewable by anyone who stumbles upon it, so change the settings to private. This will keep photos and posts hidden from insurance companies.
Update Friends and Family in Other Ways
If you need to update your loved ones about the crash, do it over a phone call or in person. Avoid meeting with friends and family in public, especially if they are known for taking photos. Should these pictures be posted on social media, you could be tagged in them. The insurance companies could then find out that you have been socializing and having fun when you should be focusing on your recovery.
Contact a Personal Injury Lawyer Today
When it comes to social media use after a car crash, less is more. Avoid using Facebook, Instagram, Snapchat, and other platforms if possible.
The Bradenton car accident attorney at the Cahall Law Firm can assist you with your car accident case. We'll help you understand the process and give you advice on what to avoid saying or doing that could jeopardize your case.  Schedule a free consultation today by filling out the online form or calling (941) 281-2019.
Resource:
aceable.com/blog/why-you-should-stay-social-media-after-car-accident/