1 Killed, 1 Injured In Motorcycle-Bicycle Crash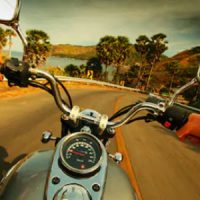 A recent crash in Florida involved a motorcycle and bicycle. Surprisingly, the bike rider is the one who survived.
The fatal accident occurred in North Fort Myers on the evening of February 7 at Woodward Avenue and Pine Island Road. The crash happened while a motorcyclist, a 39-year-old man from North Fort Myers, was approaching the intersection. A bicyclist crossed Pine Island Road and the two collided.
The impact caused the motorcycle to overturn. The rider was ejected and landed in the eastbound lane. He died at the accident scene. The bicyclist was also ejected and landed in the intersection. The unidentified man was hospitalized in critical condition.
Riding a Bicycle vs. Riding a Motorcycle
When compared to riding in a passenger vehicle, bicycles and motorcycles are of course much more dangerous. They lack any type of enclosure, so in the event of a crash, they can easily get ejected and suffer severe and even fatal injuries.
So which is more dangerous: riding a bicycle or riding a motorcycle? Statistics suggest that the fatality rate for bicycle riders is 10 times greater than that for drivers of automobiles. For motorcycle riders, the fatality rate is 17 times higher.
So does this mean that bicycles are safer? Not necessarily. While motorcycle accidents are more common, both bicycle and motorcycle crashes have high injury and fatality rates.
Therefore, safety is key. When riding your bike or motorcycle, you should always ride as safely as possible. Accidents can happen at any time, and as a bike or motorcycle rider, you are not in a favorable position. If you are involved in a crash with a motor vehicle, chances are you will suffer severe injuries and possible death.
When riding a bicycle or motorcycle, it's a good idea to wear the appropriate safety gear. Don't forget a helmet; helmets can keep your head safe and help prevent brain injuries. Reflective clothing can help you be seen by other drivers, which can be a problem when riding smaller vehicles such as bikes and motorcycles.
Also, you need to follow traffic laws. Riders of bikes and motorcycles need to follow the same laws as motorists. This means traveling at or below the speed limit and obeying stop signs and stop lights. It's also a good idea to use turn signals and signal your intentions to avoid miscommunication.
Contact a Personal Injury Lawyer Today
In a motorcycle-bicycle crash, the bicyclist is usually the one who gets injured more. The bike rider was lucky in this case.
If you have been involved in a bicycle or motorcycle crash, seek legal help from a Bradenton motorcycle accident lawyer from The Cahall Law Firm. These cases can be complicated, so rely on our expertise to help. To schedule a free confidential consultation, fill out the online form or call (941) 281-2019.
Resource:
winknews.com/2022/02/07/fatal-crash-on-pine-island-road-in-north-fort-myers/