Pedestrian Killed In Train Accident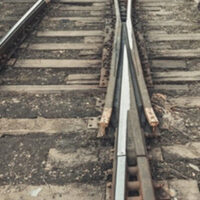 Train accidents don't happen that often, but when they do, they often involve pedestrians. Sadly, this was recently the case in Florida, when a man was hit and killed by a train.
The fatal pedestrian accident happened on the morning of December 14 in Lake City. Police responded to a train/pedestrian crash on the Florida Gulf Railroad near Northwest Dixie Avenue. At the accident scene, police found a body of a deceased pedestrian. He was identified as a 28-year-old man from New Hampshire.
The details leading up to the crash are unknown. The crash is currently under investigation by the Florida Gulf and Atlantic Railroad as well as the Lake City Police Department.
Pedestrian/Train Accidents
There are approximately 180,000 miles of railroad track. Pedestrian accidents are the leading cause of death on these tracks. The most populous states, such as Florida and California, tend to have the most train accidents.
In many cases, train accidents occur at crossings when cars or pedestrians try to "beat" the train. The most common causes of train accidents include the following.
A conductor, railroad employee, or railway company may be held liable for a crash. Common examples include crossing arms and signal lights that are not working properly.
Human error. Inexperienced conductors can make mistakes that can cause fatal accidents. Even experienced conductors can cause accidents if they are fatigued, which is a common problem.
Reckless pedestrians and drivers. Motorists and pedestrians who try to beat the train can cause collisions.
Stalled cars on the track. Car engines often stall when drivers slow down at railroad crossings. This can cause cars to get stalled on the railroad track.
A derailment occurs when a train runs off its rail. This can happen due to a collision, mechanical track failure, defective wheels, or conductor error.
Mechanical failure. Rarely, mechanical failure and defective parts can happen, even if the conductor and train company do everything they can to maintain the train and keep it running in good shape.
Defective tracks. Obstructions on the track can lead to serious accidents, so conductors need to be aware of their surroundings at all times.
Unprotected railroad crossings. Surprisingly, most railroad crossings are unprotected and do not have adequate lights, gates, and other warning signals. The lack of protection causes many accidents to happen.
Many people take their own lives by jumping in front of trains. However, this act also endangers the lives of others such as train crews and bystanders.
Contact a Personal Injury Lawyer Today
Pedestrian accidents can happen in a variety of ways. If you or a loved one has been a victim, seek legal help right away.
The Bradenton pedestrian accident lawyer at the Cahall Law Firm can assist you with your pedestrian accident case. These cases can be complicated due to right of way laws. We'll get you the compensation you deserve. Come get justice. To schedule a free consultation, fill out the online form or call (941) 281-2019.
Resource:
news4jax.com/news/local/2021/12/14/pedestrian-dead-in-lake-city-train-accident-police-say/