Bradenton Couple Killed In Crash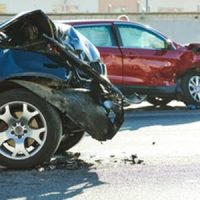 You can never be too careful on the road. A car accident can happen when you least expect it, and if you're not prepared, you could end up seriously injured or killed.
A Bradenton couple was recently killed when their food truck sustained a tire blowout. The fatal accident happened on the morning of August 16 on Interstate 75 in Bradenton.
The couple, a 31-year-old woman and a 47-year-old man, were on their way to deliver food. The truck was trying to exit I-75 at the Fruitville Road exit when a tire blew out. The tire failure caused the food truck to flip several times. It then burst into flames several hours later. Both people were trapped inside. Bystanders tried to save them, but they both died. The couple, originally from Mexico, leaves behind two young children.
What Causes Tire Blowouts?
Many drivers underestimate the importance of tires for their vehicles, but these are some of the most important parts of your vehicle. After all, tires are the only point of contact your vehicle has with the road. Your tires keep your vehicle stabilized when driving at high speeds. If you fail to properly maintain, the outcome could be a deadly blowout — and tire failure is not something you want to experience on a busy roadway.
A tire blowout is probably every driver's nightmare. So how can you prevent one while on the freeway or even when you're just driving down the street? Here are some common causes to avoid:
Low tire pressure. Tires need to be at just the right pressure in order to perform at their best. Low tire pressure, however, is worse than high pressure. That's because the sides of the tire will touch the surface of the road. And since the sides are thin, a blowout is imminent.
A small puncture, such as hitting a nail, can cause air to escape. This causes low tire pressure, which can lead to a blowout.
Heavy loads. Vehicles have weight limits for a reason. If you overload your car, it will put too much pressure on the tires. This can eventually lead to a blowout.
You can avoid tire blowouts by doing the following:
Check your tires often. You should be inspecting your tires regularly. A good way to do this is to check the tread every time you're at the gas station. If you're noticing uneven wear, visit your local tire shop and get an alignment.
Rotate your tires. Getting your tires rotated makes them wear more evenly. This should be done every 5,000 miles or so.
Keep tires filled. Keep tires filled at the proper PSI. You can find this number in the door jamb or in the owner's manual.
Contact a Personal Injury Lawyer Today
Car accidents can happen in a variety of ways. Mechanical issues such as tire failure can, sadly, cause serious or even fatal crashes.
If you or a loved one has been injured or killed in a crash, see how a Bradenton car accident lawyer from Cahall Law Firm can help. Come get justice. To schedule a free consultation, call (941) 281-2019 or fill out the online form.
Source:
wfla.com/news/local-news/manatee-county/bradenton-couple-dies-in-fiery-food-truck-crash/