Women Seriously Injured in Florida Dog Attack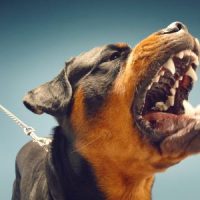 Many people work at jobs in which they deliver food and other goods to customers. They may use their cars and bicycles and work for companies such as Uber, Doordash, and Instacart. These jobs can be great for earning extra cash, but unfortunately, many people underestimate the dangers of these jobs. Not only do they have to worry about sketchy people, but also dangerous dogs.
This was the case for a delivery driver who was delivering groceries as an Instacart shopper. The woman, from South Florida, was injured in a dog attack, causing her to get dozens of stitches.
On October 6, the woman was making a delivery in a Cooper City neighborhood. She had just completed a grocery delivery to a home in the 8200 block of Northwest 30th Street when she noticed a billing error. She went back to the customer, who opened the door and her dog pushed past. The dog then attacked the woman, knocking her to the ground.
The dog bit into the woman's body multiple times. All the woman could say was "Help me, help me." The woman thought she was going to die. She did not know how she escaped.
The woman was able to run back to her car. She struggled to call for help, as her fingers were bloody and her phone was damaged. As she got to her car, she saw how damaged her arm was, with a wound from one side to the other. It was so bad that she thought she was going to lose her arm.
Paramedics with Broward Sheriff Fire Rescue transported the woman to a local hospital. She required treatment for bites on her leg, arm, and back. She needed more than 30 stitches.
The woman is recovering at home, although she is currently struggling to walk. She is currently unable to work and taking it day by day. She is still haunted by the attack. It is difficult for her to sleep, as she is haunted by the attack.
A report was filed with the Broward Sheriff's Office. Police are investigating the attack.
The dog who attacked the woman, a German shepherd, was not up to date on its shots, so the woman had to get rabies shots.
The woman is facing financial challenges due to being unable to work. She is a single mother of three children. A GoFundMe page has been set up to help her with medical expenses as she recovers.
Contact a Personal Injury Lawyer Today 
Attacked by a dog? A Bradenton dog bite lawyer from Cahall Law Firm can help you get compensation and justice. We can help you understand your legal options, such as civil lawsuits. Schedule a free consultation to learn more. Call (941) 281-2019 or fill out the online form.
Source:
wsvn.com/news/local/broward/i-thought-i-was-going-to-die-delivery-driver-shares-account-of-traumatic-dog-attack-in-cooper-city-caught-on-dashcam/