What Is Defamation?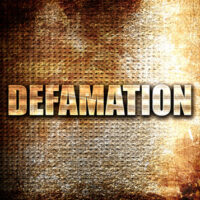 People gossip all the time. For the most part, this activity does not cause substantial harm to a person. However, when false statements are spread to third parties, this can cause serious harm to one's reputation or business.
Many people have had their lives destroyed by false rumors. This is called defamation and you can sue for it. If a person publishes false statements about you and it causes you to suffer consequences, you can file a lawsuit against that person for defamation.
Definition
Defamation refers to statements that are untrue and can harm one's reputation. Defamation can be written (libel) or spoken (slander).
It can be tricky to discern opinion from fact. Opinions are general protected speech, so a person cannot be sued for voicing their opinion. However, a defamatory opinion that is spread from one person to another can cause harm, so there's a fine line. This is especially true in the age of social media, where millions of people post content every day.
Elements of Defamation
In order for a person to file a successful case for defamation, all four of these elements must be met:
A false statement claiming to be fact
Communication or publication of that statement to someone else (a third party)
At least some form of negligence
Damages to the subject of the statement (person or entity)
Keep in mind that truth is an absolute defense. Even if someone said something unflattering about you, if it was true, it is not considered defamation. Also, if the first three elements can be proven, then the courts will generally side with the plaintiff. They can then receive compensation for any proven damages they have suffered.
However, celebrities and public figures will have a harder time proving defamation. That's because popularity will bring about more opinions about a person. Because they are exposed to more questionable statements, succeeding with a claim is harder.
Examples of Defamation
A common example of defamation is an accusation that a public official took a bribe or committed a crime even though the statements are not fact. An accusation of "police brutality" or immorality against a police department may be considered defamation.
Another example of defamation would be if a customer accused a restaurant of food poisoning even though something else was the cause of their illness. If the customer shared this false information with others, the owner could sue the customer for defamation. Allegations of adultery or other sexual misconduct against anyone can also be considered defamatory if they are untrue and damage one's reputation.
Contact a Bradenton Business Litigation Lawyer Today
Libel or slander may not seem like a serious problem, but it can ruin your reputation and even cause financial ruin. When third parties are spreading lies about you, it becomes a legal issue that comes with a lot of implications.
Protect your business and reputation with help from a Bradenton business litigation lawyer at the Cahall Law Firm. If you are dealing with a possible defamation case, contact us to see how we can help. Schedule a free confidential consultation by calling (941) 281-2019 or filling out the online form.