What Happens If I Am Hit By An Uninsured Motorist?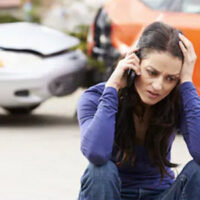 Nobody wants to be involved in a car accident, especially one with an uninsured driver. Insurance is required by all drivers, but not everyone has it. In fact, approximately 13% of drivers are uninsured.
Getting hit by an uninsured driver can be complicated. They have no insurance information to give you, so you may be confused on how to proceed with your claim, especially if they were clearly the one to cause the crash. Also, in many cases, drivers with no insurance flee the accident scene, which is even worse.
Tips for Accidents With Uninsured Motorists
If you are hit by an uninsured motorist, follow these tips:
Call the police. You should always call the police after getting into an accident, whether the other driver is insured or not. The police report will be helpful for your insurance company and make the process go more smoothly.
Exchange information. Be sure to get the driver's personal information, even if there is no insurance information. You can still get their name, phone number, and driver's license information. If there are witnesses, get their contact information as well.
Gather information about the accident. Jot down details about the vehicles involved, license plates, date, time, location, road conditions, and weather conditions. Take photos of damage, injuries, and the general area.
Contact your insurance company. They'll want to know the details of your accident. Give them all the details you have. Be sure to tell them the other driver was uninsured. You should also provide them with the police report number.
How to Pay for Injuries
If the other driver was uninsured, how will you pay for the injuries you suffered? There are several options including the following:
Uninsured motorist coverage. While not required in Florida, uninsured motorist insurance can pay for injuries you, your family members, and occupants of your vehicle suffer in an accident when the at-fault driver has inadequate insurance or none at all. This coverage costs just a few extra dollars a month and is well worth it.
Collision insurance. This pays for damages to your car caused by an uninsured motorist.
Health insurance. If you have health insurance, you can use it to pay for injuries suffered in an accident with an uninsured motorist. If you have a lawyer—which you should for an uninsured motorist accident—they can inform your doctor of your accident and learn about your copays and expenses.
If the driver was uninsured, you may need to sue them in order to get money for your damages. However, those without insurance often don't have a lot of money, so don't be surprised if you get less money than you expected.
Contact a Bradenton Personal Injury Lawyer Today
Dealing with an accident with an uninsured motorist can be a complicated situation. Make sure you get the compensation you deserve.
Many of these cases involve hit and runs, which means you may need help finding the driver. The Bradenton uninsured driver accident lawyer at The Cahall Law Firm can help you get the justice you deserve. Let us help you deal with the insurance companies. To schedule a free consultation, fill out the online form or call (941) 281-2019.
Resource:
natlawreview.com/article/hit-uninsured-motorist-what-you-should-know