Child Bit By Largo Police K9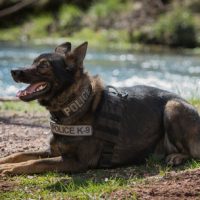 We tend to regard dogs as "man's best friend," but the truth is that any dog can bite. Whether it's a stray dog, a wild dog, a family pet, or even a police K9, it can attack a person and cause serious injuries.
A boy in Florida was bit by a police K9 that was released from a fenced yard. The incident happened on the afternoon of March 1 in Tarpon Springs at the home of a Largo police officer. The dog, which was off duty at the time, was accidentally released from the yard and it bit a 10-year-old boy.
The boy was taken to a local hospital. The extent of his injuries is unknown. No further details were released, since the incident involves a Largo police K9 at a police officer's home. The Largo Police Department is still investigating the attack.
Training of Police K9s
Most police K9 dogs are German Shepherds and Belgian Malinoises. These dogs are typically purchased at training facilities and bred for protection and aggressiveness. The buyer evaluates the dog to see if its temperament is suitable for police work. For example, a police dog may be needed for narcotic detection or to help apprehend criminal suspects.
The police department assigns the dog to a designated dog handler, who assumes responsibility for the dog. The dog lives in the home of its handler, who trains the dog. The handler must keep records of all activities and have the dog certified for police work.
Dogs used for suspect apprehension are Schutzhund trained, which consists of three main components: obedience, searching, and protection. These methods teach the dog to viciously bite and shake the arm or leg of an "agitator," which is a person who wears heavy padding for protection. The K9 is also trained to alert its handler after finding a suspect. The K-9 then bites the suspect or waits for a command from the handler.
Not all apprehensions require bites. In fact, high bite rates indicate that the dog has a short latency to attack, which suggests that the dog is difficult to control.
Police departments have written policies and procedures regarding deployment of a K9 to apprehend a suspect. For example, the handler must announce to civilians that the dog is present and will be released unless the person surrenders.
Contact a Personal Injury Lawyer Today
Dog bites happen all too often and even police dogs can pose a risk. Children especially face a high risk of getting seriously injured by a dog attack.
Contact a Bradenton dog bite lawyer from Cahall Law Firm if you have been a victim. We can help you seek much-needed compensation for your damages as well as justice against the dog owner. To schedule a free consultation, call (941) 281-2019 or fill out the online form.
Source:
fla.com/news/pinellas-county/off-duty-largo-k9-bites-10-year-old-after-accidental-release/