4 Injured In Fort Myers Truck Crash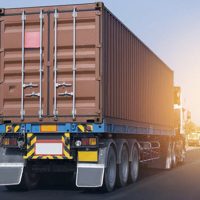 Distracted driving is a common issue in Florida. We live busy lives and are often distracted while behind the wheel. While many people eat, change the radio station, use the navigation, talk to passengers, and tend to pets while driving, these distractions can sometimes lead to serious crashes.
This was recently the case in Fort Myers, when a distracted truck driver caused a multi-vehicle accident. Four vehicles were involved in the truck accident, which occurred on the morning of May 12 at State Road 31 and Old Bayshore Road.
A 56-year-old man from Cape Coral was driving a semi truck with a trailer when he dropped paperwork in the cab of his truck. Distracted, he did not see traffic stopped ahead. He could not stop in time and he hit an SUV. The occupants, a 52-year-old woman and a 17-year-old boy, both from Winter Springs, suffered critical injuries.
That SUV then collided with another stopped SUV. The driver, a 55-year-old Lakeland woman, suffered serious injuries. Both SUVs then hit a tractor-trailer driven by a 35-year-old man from Polk City. He suffered minor injuries. The truck driver was not injured.
State Road 31 is a dangerous road known for speeding and distracted drivers. In fact, a man recently died there in a head-on crash. State Road 31 is a two-lane that stretches for 36 miles, from North Fort Myers to Arcadia. It is expected to expand to four lanes, with construction starting in 2023.
Distracted Driving
Distracted driving is a serious issue that kills people every day. Many states are cracking down by enacting laws that allow police officers to pull over and fine drivers.
Florida is one of these states. The state passed a law in 2019 called The Wireless Communications While Driving Law, Florida Statutes Section 316.305. It requires drivers to put their phones down and focus on driving. It also allows law enforcement to stop motor vehicles and issue citations to those who are texting while driving. Under the law, a person may not operate a motor vehicle while typing or entering multiple letters, numbers or symbols. This means Florida motorists cannot text, email, instant message, or use the internet from a wireless communications device while driving.
A person can receive a citation for doing so. The first offense is a non-moving traffic violation with a $30 fine. No points are assessed against the driver license. If a driver gets a second offense within five years, it is considered a moving traffic violation with a $60 fine. This time, three points are assessed against the driver's license.
Contact a Personal Injury Lawyer Today
Accidents can happen on Florida roadways at any time. Distractions, inexperienced drivers, speeding, and poor road and weather conditions are just some of the factors that play a role. But when the crash involves a large semi truck, injuries can get serious quickly.
Involved in a truck accident? Contact a Bradenton truck accident lawyer from Cahall Law Firm. We'll help you get the compensation you deserve for your injuries and other damages. To schedule a free consultation, fill out the online form or call (941) 281-2019.
Source:
winknews.com/2022/05/12/multi-vehicle-crash-injures-at-least-1-and-closes-state-road-31-at-old-bayshore-road/