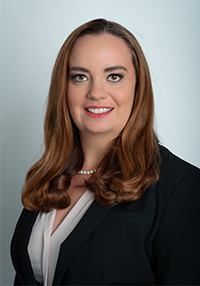 Kristina Roberts, Esq.
Attorney
Kristina graduated Stetson University College of Law in 2015 and immediately started working as in-house counsel at a Medicare compliance company. Kristina specialized in disputes with Medicare, ensuring that Medicare beneficiaries received all necessary care following their injuries. Kristina was the only person in the history of the company to take a dispute up to an administrative law judge, of which she did twice and won both hearings against the Centers for Medicare and Medicaid Services.
After working in-house for three years, Kristina started working at a litigation firm in St. Petersburg. She quickly became a senior litigation attorney, overseeing all of the attorneys on the litigation team. Kristina primarily practiced in plaintiffs first party property litigation, where she fought for homeowners against their insurance companies after the insurance companies failed to help them following devastating loss to their homes. Kristina has participated in jury trials as well as numerous arbitrations (binding and non-binding), mediations, depositions, and court hearings.
In law school Kristina volunteered as a Guardian Ad Litem for children in the foster care system. Her passion is helping other people and it is reflected in her work. Kristina earned her bachelor's degree in philosophy and communications at Stetson University in Deland. Kristina graduated undergrad early and worked for Disney for several months before starting law school the summer of 2012.
Kristina and her husband enjoy participating in local running events including the Skyway 10k and the Gasparilla races. Kristina's favorite vacation spot is Disney, but she also enjoys boating, fishing, and spending time with her two small dogs.